Author Pat-Black Gould Interview with Purple Butterfly Press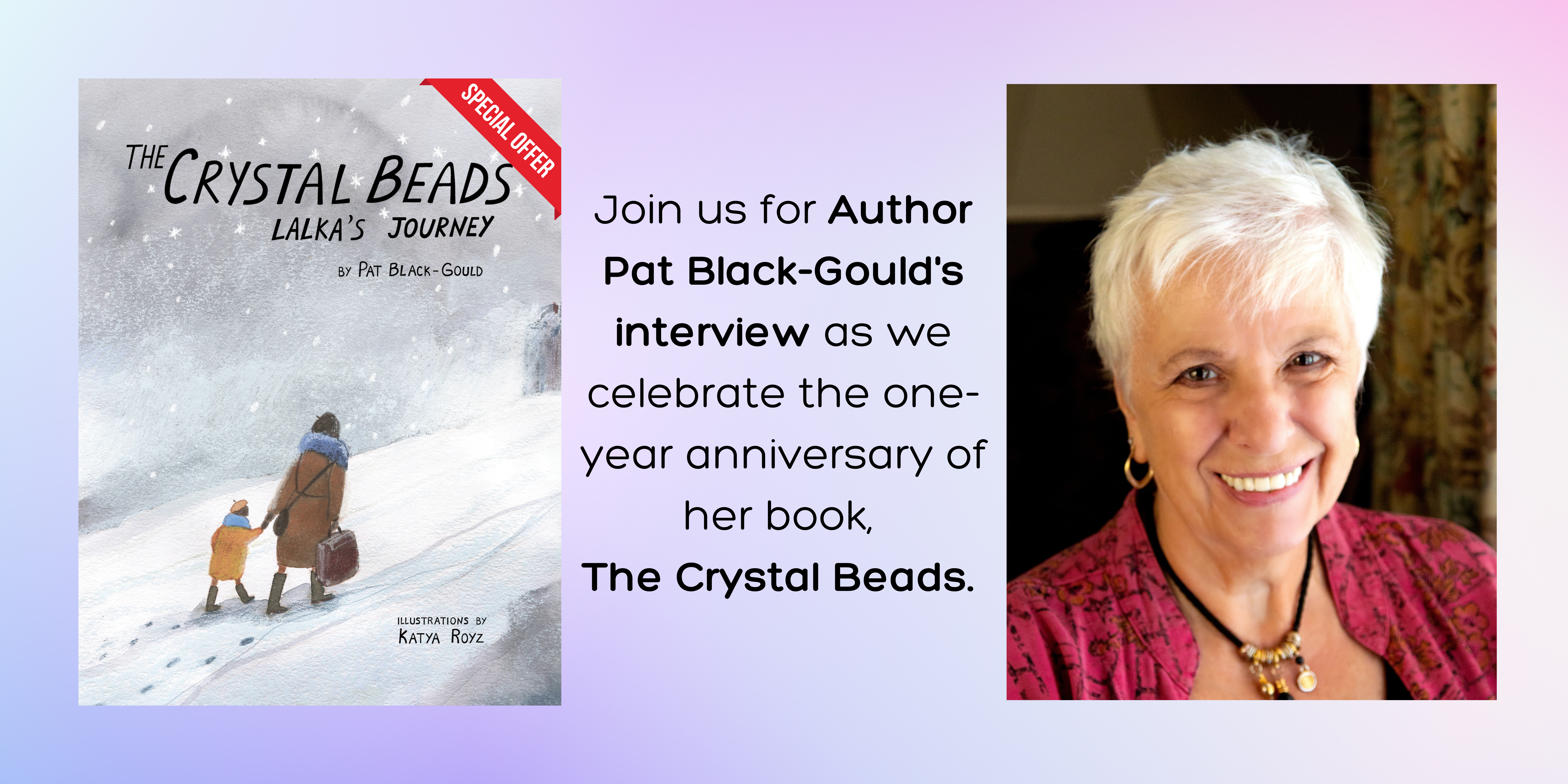 Join us for Author Pat Black-Gould's interview where we discuss herself, her book, The Crystal Beads, and interesting facts about the creation and inspiration behind it!
Please tell us a little about you...
I am Pat Black-Gould, Ph.D., a clinical psychologist and an award-winning children's book author, fiction author, and playwright. My children's book, The Crystal Beads, Lalka's Journey, tells the story of a hidden child of the Holocaust. It has received accolades such as the Moonbeam Children's Book Award, the Northern Lights Book Award, and the Vinnie Ream Award. Currently, I am in the process of transforming this book into a stage performance.
In 2024, my co-author Steve Hardiman and I will publish our first novel titled All The Broken Angels. It is a coming-of-age story set during the Vietnam War era. As a psychologist, I have dedicated my career to working with Veterans, the D/deaf population, and the LGBTQI+ community. These experiences have shaped my writing and given me a deeper understanding of the human condition.
Please tell us a little about your book...
In 1939 Poland, Lalka, a young Jewish girl, is forced to make a difficult decision. She is asked to give up her most prized possession, a Star of David necklace, which was a gift from her father before he died. In its place, her mother gives her a set of rosary beads, and then teaches her a "game" that may keep her safe in times of danger. When the country is invaded, the mother makes a heartbreaking sacrifice: placing her child in the care of nuns at a convent. When the Nazis later locate and question Lalka, will she remember how to play the game? The Crystal Beads is inspired by a true story and told from the perspective of an innocent child. The story is as relevant today as it was years ago. The book contains two study guides, one for children, parents, and teachers and the other for adults who gather in places of worship, book clubs, and small groups. Discussion topics include themes of compassion, courage, empathy, and diversity.
Why did you write the book?
Sadly, we are living through troubling times. We see an increase in antisemitism as well as more hatred and violence towards each other. I wrote this book to help spread messages of empathy, understanding, and caring about each other…despite our differences. In addition, it is sad to say that there's a fundamental lack of knowledge about the Holocaust and there are some who believe the Holocaust never happened. History needs to be told for everyone to hear and learn, otherwise, history will continue to repeat itself.

Who is this book for?

The book is written for ages eight to adults. It contains two study guides, one for children, parents, and teachers and the other for adults who gather in places of worship, book clubs, and small groups. Discussion topics include themes of compassion, courage, empathy, and diversity.

What is YOUR favorite part of the book?
I'll mention two things.
1. One of my favorite parts of the book is the illustrations done by Katya Royz, a native of Siberia who now lives in Israel. Her grandfather is a Holocaust survivor who left Ukraine just before the Nazis destroyed his village. Katya's family history served as an inspiration in creating these brilliant drawings.
2. In the book, a Jewish mother sends her daughter to a convent to keep her safe. There is a brief exchange between the mother and Sister Teresa that focuses on the main themes of the book.

Mama removed an envelope from her purse and handed it to Sister Teresa" These are all the papers. How can I thank you for this? I worry I'm placing you at risk."

Sister Teresa spoke in a soft voice. "I trust in God. I trust that the power that joins us is greater than anything that might divide us."

When did you start writing books?
I was a playwright first and then started writing short stories a few years ago. The Crystal Beads actually started out as a short story that was published in 2020. I was honored to receive awards for the story and I then began conducting presentations. The positive response I received led to turning this story into my first book which was published in 2022. Since it came out, I have continued doing Author Talks both locally and nationally.
How is this book different from other books in your genre or niche?

Most books contain the main story and maybe some background information. But I chose to turn The Crystal Beads into a curriculum guide. As well as the story, the book contains a study guide for children and one for adults. The book's Afterword includes the story of a Holocaust survivor, who is also the grandfather of the book's illustrator. I felt it was essential for readers to hear the words of a survivor. Fewer and few are alive today and it is essential that that stories are told. In addition, the book gives the story of Whitwell Middle School, Home of The Paper Clip Project, and the Children's Holocaust Memorial.

What challenges did you face writing your book during a pandemic?
Fortunately, there were only a few challenges. I was lucky to have Purple Butterfly Press as my publisher. This team worked very hard and helped walk me through all steps of the publishing process in a timely manner.
Do you have any other books? Where can they be found?
I am currently writing an adult fiction novel with co-author Steve Hardiman. All The Broken Angels are set for publication in 2024. This book takes place during the Vietnam War era. A time when the country was deeply divided. A time similar to now.

Where is the best place for readers to connect with you?
www.facebook.com/PatBlackGould
www.instagram.com/patblackgould/?hl=en
www.goodreads.com/user/show/131785495-pat-black-gould
This month we are running a special sale in honor of the one-year anniversary of The Crystal Beads! Make sure to purchase your discounted copy of The Crystal Beads here!

We hope you enjoyed reading our interview with Pat! If you are interested in learning more about her book, seeing any of her accomplishments, or other interviews please follow the links provided above and on our Purple Butterfly Press website!