The Crystal Beads, Lalka's Journey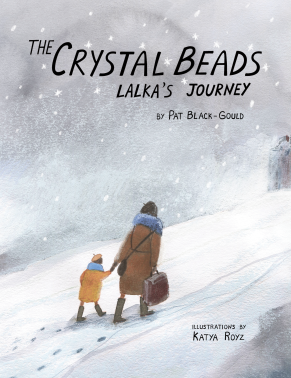 Lalka's Journey
By Pat Black-Gould
Published by Purple Butterfly Press
Poland, 1939. It's no longer safe for the Jews. Lalka's mother makes the excruciating choice to teach her the ways of Catholicism and send her to a convent for safekeeping. Little Lalka doesn't understand why her mother would give her Crystal beads (a rosary) in exchange for her prize possession, her Star of David, a special gift from her father, or why she's learning new songs and prayers.
Lalka and her mother journey to a convent, where the brave nuns take her under their wing and continue her Catholic education. When the Nazis come looking, will the training be enough? When forced with a tough decision, will Lalka follow her heart or follow her mother's directions? And will it be enough to save her life?A beautiful story of sacrifice and bravery,
The Crystal Beads, Lalka's Journey
, highlights a piece of the Holocaust - the hidden children - told from the innocent perspective of a child.
Readers also come to understand how people can come together, despite differences, when it really matters.
Advance Praise
A poignant story of bravery, sacrifice, and love. The Crystal Beads: Lalka's Journey teaches the history of hidden children of the Holocaust, evokes compassion through beautiful language and illustration, and leads readers to consider what connects rather than divides us from one another.
-- Jennifer Rosner, author of The Yellow Bird Sings
The Crystal Beads beautifully highlights empathy and compassion. Themes, which as an educator, I consider to be the core components in teaching students about the Holocaust.

- Sandra Roberts, Whitwell Middle School, Whitwell, Tennessee, The Children's Holocaust Memorial/The Paper Clip Project

Case Laminate | 40 pages | $18.99 USD | 8.5x11 | 978-1-955119-20-7 | June 14, 2022
Be In The Know!
Sign up to be notified about new titles, opportunities for advance reader copies, and more!