The Crystal Beads' Third Award!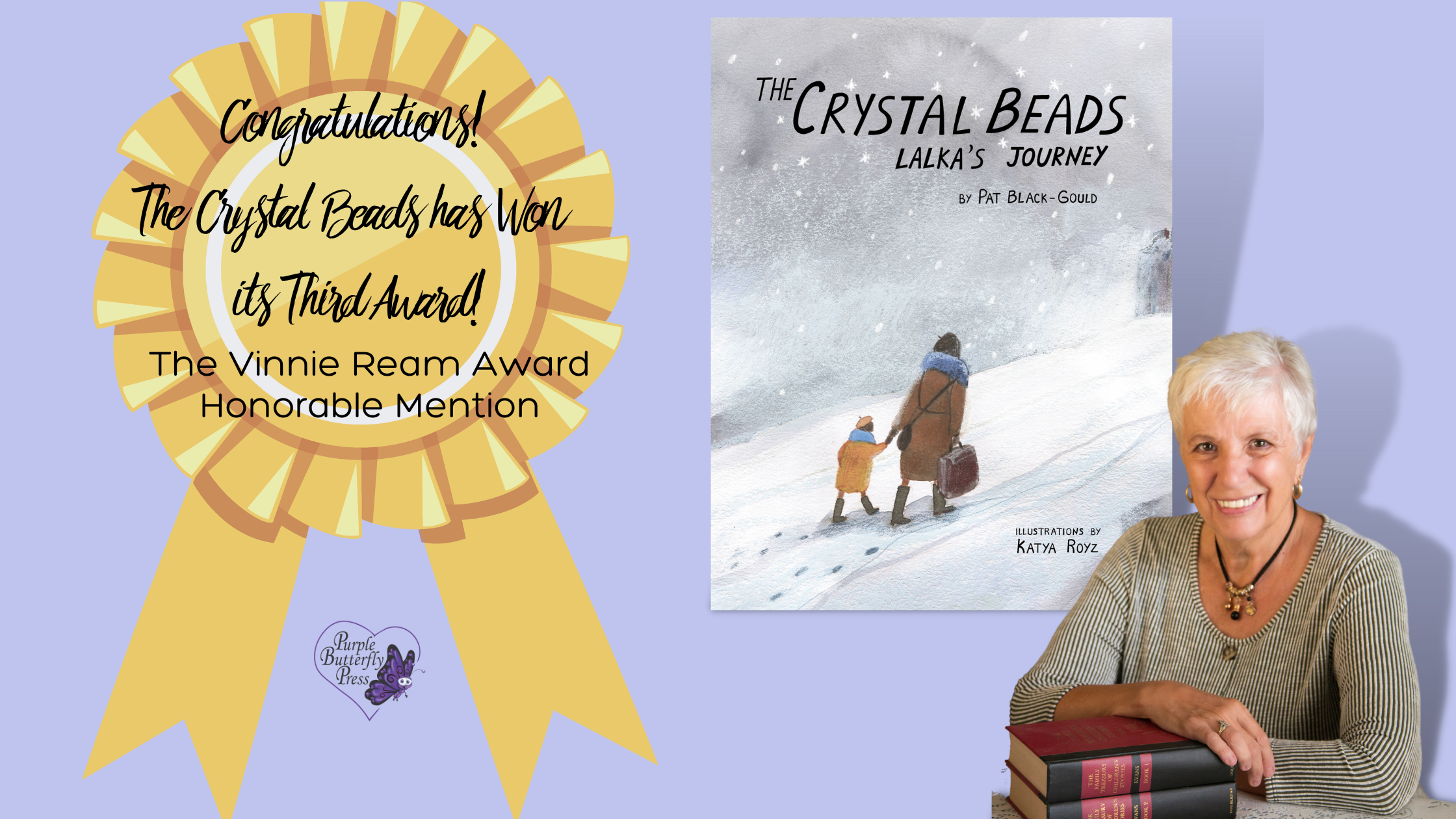 This month is an incredible month for The Crystal Beads, Lakla's Journey, and Pat Black-Gould, with the celebration of their third award and book anniversary on June 14th!
The Crystal Beads has received the Moonbeam Children's Book Award - Gold Medal Winner, the Northern Lights Book Award - Winner of the Picture Book All Ages Category, and just won the Vinnie Ream Award - Honorable Mention!
A little on the Vinnie Ream Award:
The Vinnie Ream Award is given to five individuals biennially, one Gold Medal winner, and four Honorable Mentions. Judges, faculty members of the University of Alabama, wrote: In "The Crystal Beads, Lalka's Journey," the author presents the atrocities and horror of the Holocaust. The book captures a history that feels emotionally appropriate as a children's book but does not shy away from the terrible truth. Though it is a children's book, it is essentially about courage and kindness and captures a message that transcends age. All readers, children or adults, can take away a strong message about how we have the ability to spread light and stamp out hate."
We are so excited for Pat as her incredible story gets this recognition. We wish The Crystal Beads a very happy birthday and sincere congratulations on these three impressive awards! We are honored to be a part of the Crystal Beads story!
Want to know more about The Crystal Beads?
In 1939, Lalka faces a difficult choice between a Star of David necklace and a rosary. Her mother, aware of the danger for Jews in Poland, exchanges the necklace for crystal beads. Lalka's mother then leaves her at a convent for her safety, where the nuns continue her Catholic education. As the Nazis question her, Lalka must decide between following her heart or her mother's directions. This Gold Medal award-winning book, inspired by a true story, explores sacrifice, bravery, and the unity of people during the Holocaust.
The Crystal Beads, Lalka's Journey, is a children's book with broad appeal, suitable for ages 7 to adults. It includes two study guides—one for children, parents, and teachers, and another for adult groups like those in places of worship, book clubs, or small gatherings. These guides foster discussions on important themes such as compassion, empathy, and diversity.
Take a moment to listen to Author Pat Black-Gould read The Crystal Beads here!