Interview with Antoinette Truglio Martin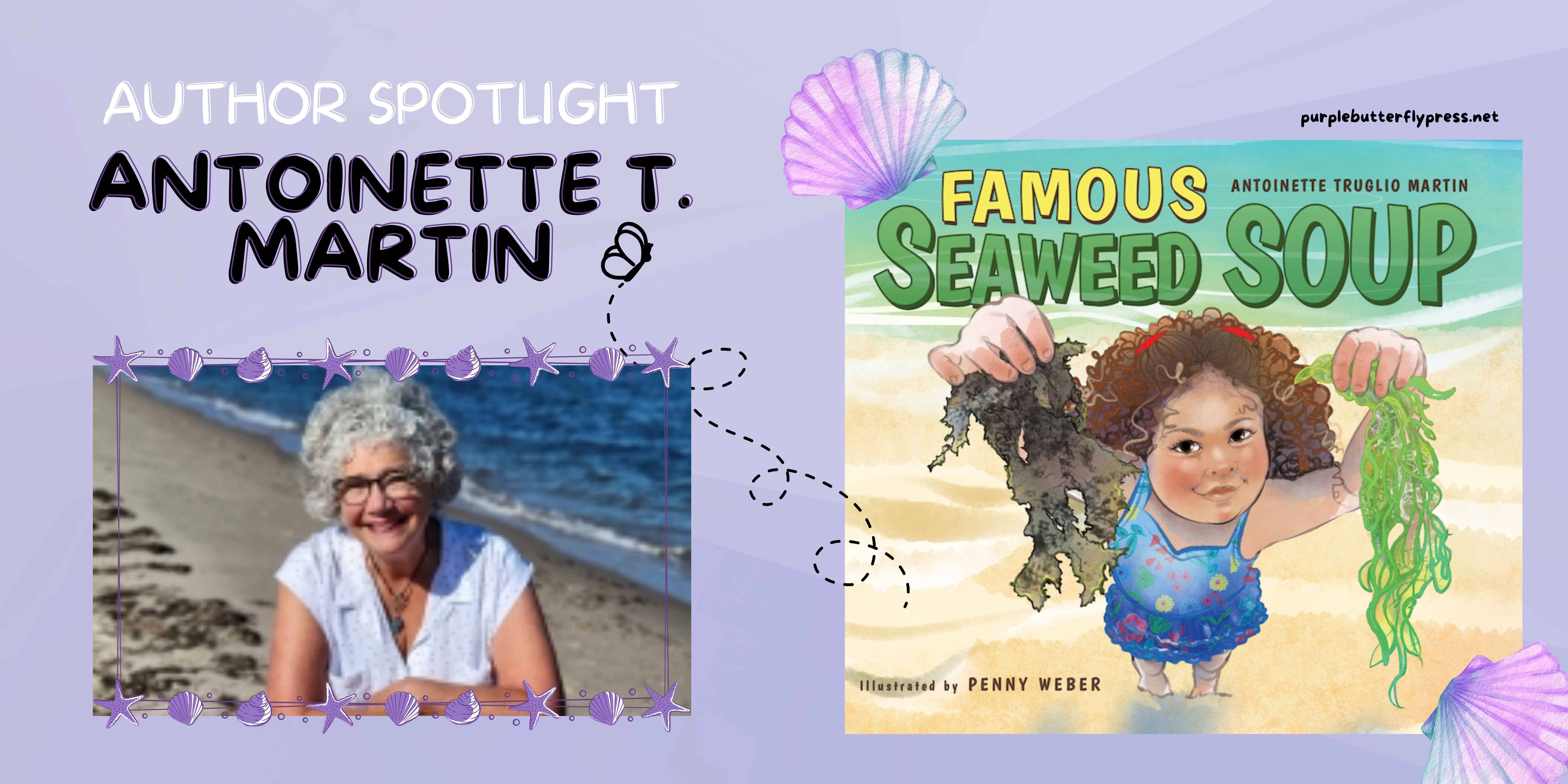 About the Author:
Antoinette Truglio Martin retired from a forty-year career as a speech therapist and special education teacher and now enjoys life as an author and Nonny. She is a children's book author, memoirist, and blogger. She wrote the memoir, Hug Everyone You Know: A Year of Community, Courage, and Cancer (She Writes Press), and the award-winning middle-grade historical fiction series, Becoming America's Stories (Red Penguin Books).
Famous Seaweed Soup was re-published in May 2023 with Purple Butterfly Press. This new edition features updated content and new illustrations.
Antoinette proudly holds an MFA in Creative Writing and Literature from Stony Brook/Southampton University. Be sure to visit her website and blog, Stories Served Around The Table at https://storiesserved.com/. She lives on Long Island with her husband and is surrounded by the sea and the people she loves.
Please tell us a little about your book:
It is a family beach day. Sara wants to make her Famous Seaweed Soup. It's a busy job getting water, collecting seaweed, and gathering snails and smelly stuff. Taking the lead from the fable, Little Red Hen, Sara asks for help, but Daddy, Mommy and baby Hallie are busy too. Sara must do it herself, and she does. With gumption and resilience, Sara independently finishes what she started and makes her Famous Seaweed Soup. The ending puts a twist on the classic fable, delighting all readers.
Why did you write the book?
Famous Seaweed Soup is an almost true story. I wrote the first draft of Famous Seaweed Soup while watching my little girl play on the beach. She had a great imagination and loved to build sand castles and "cook" seaweed soup. It was quite famous in our beachy circles. I loved watching her play, listening to her self-dialogues, and going along with her game. Sara happily ushered her little sisters and cousins to the fine art of Famous Seaweed Soup. The story was easy to write, but it took a lot of time, trial and error to craft into an endearing story. I think it was Sara who identified the connection between making her soup by herself and the Little Red Hen book we read together. I adapted the fable and eventually crafted a story worthy for children to love.
Who is this book for?
Famous Seaweed Soup is for preschool and early elementary teachers to read to their students. Parents and grandparents enjoy reading the book aloud to their children. Emerging readers like to participate in the repetitive text and early readers feel satisfied in being able to read the whole story. The beautiful illustrations supplement comprehension, vocabulary, and art appreciation. It's a book for just about everyone.
What is YOUR favorite part of the book?
I love the faces in the story. Penny Weber painted children with authentic facial expressions and postures. Even the seagull has an expressive personality.
When did you start writing books?
I have been writing stories since I could write. I scratched and scribbled in composition notebooks and later diaries with locks, to lined journals. I have several file drawers stuffed with story ideas, first drafts, and rejection letters. When I was a speech therapist, I wrote articulation stories. Most of my stories involved children, the sea, and family life.
How is this book different from other books in your genre or niche?
Famous Seaweed Soup is an entertaining fractured fairytale. Children are thrilled to recognize the similarities to Little Red Hen and identify the differences and the funny twist to the ending.
What challenges did you face writing your book during a pandemic?
I wrote the story before the pandemic, but the marketing landed just as the world started to open up. It has been a challenge to book school visits and library readings. Although I offer virtual author visits, I have not booked more than a few. I did a few pro-bono readings for kindergarten and first-grade classes which worked out well for exposure and promises to come back for an event.
Do you have any other books? Where can they be found?
Yes! I wrote a memoir, Hug Everyone You Know: A Year of Community, Courage, and Cancer (She Writes Press 2017) that chronicles my first year battling breast cancer as a wimpy patient. Becoming America's Stories (Red Penguin Books), a middle-grade historical fiction series debuted in 2020. The award-winning three-book series includes The Heart of Bakers and Artists, The Dreams of Singers and Sluggers, and The Wishes of Sisters and Strangers. It is 1911 and nine (almost ten)-year-old Lily Taglia, an American-born child of Sicilian immigrants, comes of age in New York City's Lower East Side tenements while important milestones of American history unfold. The stories are based on my grandparents' experiences growing up as immigrant children in the Lower East Side of their new country.
I also wrote Becoming America's Food Stories, a collection of family food stories.
Bookshop.org https://bookshop.org/shop/stories-served
Barnes and Noble https://tinyurl.com/388fxnnj
Amazon: https://tinyurl.com/4jdvpttp
Where is the best place for readers to connect with you?
Stories Served Around the Table https://storiesserved.com/
Facebook: https://www.facebook.com/AntoinetteTruglioMartin2017
Instagram: https://www.instagram.com/storiesserved/