The Kindness Machine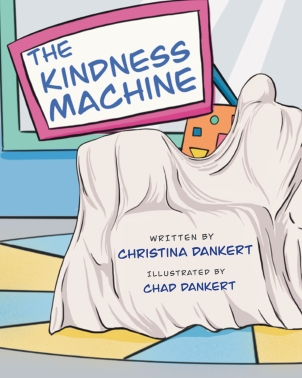 By Christina Dankert & Chad Dankert, Illustrator
Published by Purple Butterfly Press
"A creative story teaches children ways to be kind." - Kirkus

"A fun, instructive and a great way to teach kids about being kind to others." - Children's Book Review
There's a mysterious new machine in Mr. Wilson's second-grade class. Instead of grownups telling children to "make good choices" and "be kind," this special machine shows the students exactly what they can do to bring kindness to their classroom and into their own heart! But what happens when it's time to leave school? Mr. Wilson lets his class in on a secret that they have their very own Kindness Machine inside them to spread kindness wherever they go!
In the end, Mr. Wilson teaches his students that they each have their own Kindness Machine within them to help make kind decisions for others and themselves.
Join Mr. Wilson in his efforts to bring more kindness into the world.
Marilyn Panton (Reviewer)

5 out of 5 stars

Mr. Wilson, a teacher in second grade, can't wait for his class to begin because he has a very important interactive lesson to share with his students. When the kids arrive they encounter a mysterious new machine that their teacher has designed to teach them about kindness and that will convince them that kindness is their new superpower.

This creative, innovative and fun teaching method will direct kids to be kind to one another in their classroom and beyond. He convinces each student that they are indeed "Kindness Machines" personified! How cool is that? They can go forth out of school and be ambassadors of kindness wherever they may go.

The illustrations are colourful and enrich the positive inspiring message. If you have to choose to be something... ALWAYS... be kind! I highly recommend this book.

Elizabeth K (Reviewer)

5 out of 5 stars

I just reviewed The Kindness Machine by Christina Dankert. #TheKindnessMachine

Thank you to NetGalley and Purple Butterfly Press for my ARC in exchange for my honest review. This book will be published March 22, 2023.

This is a very cute children's book. The teacher shows the students that they each have a super power: being kind. But he takes it a step further and through his wacky Kindness Machine invention, he teaches them some concrete ways to be kind, like smiling and complimenting others.

Meredith Kressen (Educator)

5 out of 5 stars

This book will be great for teaching (and reteaching) what kindness looks like in your classroom! I loved the actionable displays of kindness, while also including built-in questions to ask students while reading. I can't wait to use this with my 2nd grade students!
Case Laminate | 32 pages | $19.99 USD | 8x10 | 978-1-955119-08-5 | March 22, 2022
Be In The Know!
Sign up to be notified about new titles, opportunities for advance reader copies, and more!